Windscreen Repairs are for the repair of laminated glass only. You do not need to determine if the windscreen is laminated, if it is chipped or cracked it must be laminated, the older toughened windscreen does not chip; it shatters into thousands of pieces.
The repair process works by injecting a liquid acrylic resin into the damaged glass. The resin is cured by the use of long wave ultra violet light.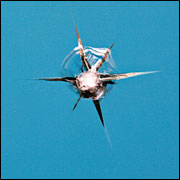 After curing, what the repair will do is as follows.
1. It will restore the strength to the damaged glass. BS AU251:1994 is the relevant British standard for measuring the performance of windscreen repair equipment and copies are available from BSI if required. Esprit have passed BS AU251:1994 and the Australian/New Zealand standard AS/NZS 2366.2:1999.
2. Cosmetic improvement. Repairs restore the optical or cosmetic appearance. The size of the blemish left is a function of the severity of the initial damage.
3. Durability. Repairs are permanent and the vehicle can be washed or driven immediately after repair.
4. Heated windscreens can be repaired in exactly the same manner as ordinary windscreens.
5. Tinted windscreens or tinted top band areas can be repaired in the same manner as plain windscreens. The "colour" is in the PVB interlayer not the glass. The glass picks up the colour from the interlayer, the repair resin will do exactly the same.